Most of us can't go a day without some Baby Yoda meme popping up on our screens and why would we want to? Baby Yoda has melted our hearts in a way we haven't seen since maybe the Muppet Babies did when we were kids.  I can't get enough of his tiny little nose and fuzzy head! But there is a scientific reason why this baby has won our hearts.
This post contains affiliate links, meaning that if you choose to click through and make a purchase, I will receive a small commission at no cost to you. I was also compensated to create this post, though all opinions are my own.
Baby Yoda Is Melting Hearts, Including ours
The new Star Wars series The Mandalorian had an unexpected win for Disney+, it managed to grab the attention of almost everyone on the internet ( Me included ) without really trying. All they needed was to add the most unexpected, adorable creature, and make it need our protection.  
Even people who weren't planning on watching The Mandalorian now tune in to catch the cuteness. I'm just waiting for toddler Yoda to throw a massive tantrum in the middle of a grocery store because they are out of frogs. But it would be soooooo cute!!!!  And maybe a little scary.
True Star Wars fans have been going crazy trying to figure out who and what Baby Yoda is, since he threw off their nerdy timelines. While others don't care and just want more adorable antics from our favorite green baby. 
The Mandalorian is set in the time vacuum between Episode VI: Return of the Jedi and Episode VII: The Force Awakens, and as any Star Wars fan will be able to tell you, Yoda himself died during Return. This "Baby" is apparently 50 years old. Which means we could have a whole season or two, watching the little guy do adorable things. 
But fans are digging in deep to explore the baby's backstory, parentage, and future life as a Jedi Master.
I will openly say that I adore this baby and I would easily watch countless hours of Baby Yoda doing random things. 
Count me in for "Baby Yoda has bathtime"  or "Baby Yoda plays Peek A Boo." I'm pretty sure I won't get sick of this anytime soon.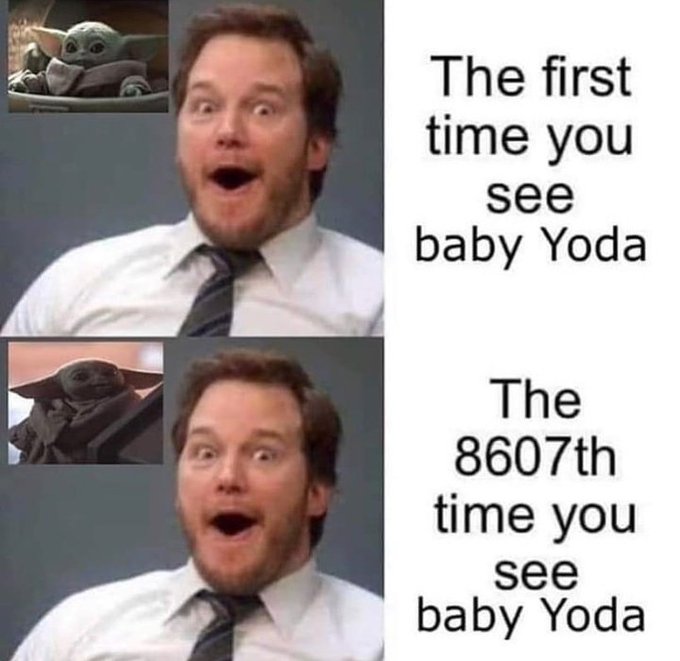 The scientific reason for why we love Baby Yoda
Baby Yoda was created to make us want to love and protect him, everything about him targets our protective instincts. His adorable little smooshy face and tiny hands trigger our "caregiving behaviors that increase the chances of infant survival," according to a 2015 study published in the journal, Frontiers in Psychology.
We are wired to love this vulnerable-looking creature. Yep, I really want to take that baby home and dress him up in cute little outfits. It's in our DNA to want to protect and provide for cute innocent creatures, like our own babies and even little green ones with giant eyes.
I know that this super-baby can't stay perfect for long. But I'm going to hold on to the adorableness as long as I can.
Our world seems ugly and the people are frustrated, we NEED Baby Yoda to make us smile again.
Love Baby Yoda? We want to hear why!